Posts for: December, 2020
By Tuscaloosa Family Dental
December 22, 2020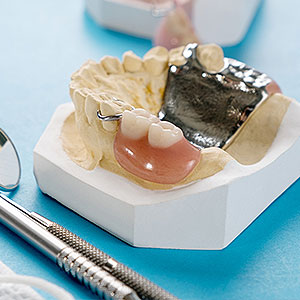 Before implants, people often turned to a removable appliance to replace multiple missing teeth. Known as a removable partial denture (RPD), this appliance could restore both appearance and function at an affordable price.
But although implants may have diminished their use, RPDs haven't gone extinct. They're still a viable option for patients who can't afford implants or fixed bridgework, or who can't obtain implants due to the state of their dental health.
Although replacing only a few teeth rather than an entire arch, RPDs are similar in basic concept to full dentures. The prosthetic (artificial) teeth are anchored in a resin or plastic that's colored to resemble the gums, precisely placed to fit into the missing gaps. This assembly is further supported by a frame made of vitallium, a lightweight but strong metal alloy. The appliance fits upon the arch with the missing teeth, supported by vitallium clasps that grip adjacent natural teeth.
Each RPD must be custom designed for each patient to fit perfectly without excessive movement during chewing. Too much movement could warp the fit, reduce the RPD's durability or damage other teeth. To achieve this secure fit, dentists must take into account the number and location of missing teeth to be replaced, and then apply a specific construction pattern to balance the appliance.
There are RPDs that are meant to be used short-term, as with a teenager whose jaw isn't yet mature for dental implants. But the metal-framed RPDs we've described are designed for long-term use. There is, however, one primary downside: RPDs have a propensity to collect dental plaque, a thin biofilm most responsible for dental disease that could further deteriorate your dental health.
To avoid this, you'll need to keep both the RPD and the rest of your teeth and gums as clean as possible with daily brushing and flossing, and appliance care. And like dentures, it's best to remove the RPD when you go to bed at night to discourage the growth of harmful bacteria.
To see if an RPD to replace your missing teeth is an option for you, visit us for a complete dental exam. From there, we can advise you further as to whether an RPD could affordably restore your missing teeth and your smile.
If you would like more information on RPDs, please contact us or schedule an appointment for a consultation. You can also learn more about this topic by reading the Dear Doctor magazine article "Removable Partial Dentures."
By Tuscaloosa Family Dental
December 10, 2020
When you were a kid, a plate of green beans or carrots probably seemed less appealing than a handful of cookies or a bowl of ice cream. Mom or dad telling you to "eat your vegetables" was the last thing you wanted to hear.
Hopefully, you've made friends with fresh fruits and vegetables as you've grown up. But even if you're just acquaintances, these foods are nonetheless essential to good health, particularly your teeth and gums. Among other things, they're packed with vitamins and minerals that help prevent tooth decay, gum disease or even oral cancer.
Here's a sampling of dental health-boosting micronutrients and the foods you'll find them in.
Vitamin C. Found in a variety of fruits and vegetables, vitamin C boosts the immune system to fight infections like tooth decay or gum disease. It's also an antioxidant that lowers your risk of cancer.
Calcium. This mineral obtained through dairy products, bony fish, greens and legumes, strengthens teeth and bones. It can also improve nerve and muscle function.
Vitamin D. This vitamin helps teeth absorb calcium to make them less prone to decay. You can find this essential vitamin in dairy foods, eggs, fatty fish or sunlight.
Phosphorus. Like calcium, phosphorus also strengthens teeth and bones. You'll find it plentiful in dairy and meats, especially seafood and poultry.
Magnesium. This mineral helps teeth and bones absorb other minerals and can also help with enzyme function needed to avoid disease. You'll find it in nuts, legumes, whole grains, dark leafy greens, seafood and chocolate.
If you don't think you're getting enough of these and other nutrients, you can obtain them through dietary supplements. But do be careful: The Food and Drug Administration (FDA) can remove harmful supplements from the market, but only after consumer use has provided evidence that they're unsafe. And, you won't be getting fiber or other elements found in regular foods that your body needs to be healthy and function properly.
Still, if you think you need to supplement a nutritional deficiency, speak first with your doctor or dentist about it and what you should take. If at all possible, though, eat your veggies—your teeth and gums, as well as the rest of your body, will be the healthier for it.
If you would like more information on nutrition's role in dental health, please contact us or schedule an appointment for a consultation. You can also learn more about this topic by reading the Dear Doctor magazine article "Vitamins & Dietary Supplements."