Posts for tag: gum disease
By Tuscaloosa Family Dental
February 27, 2019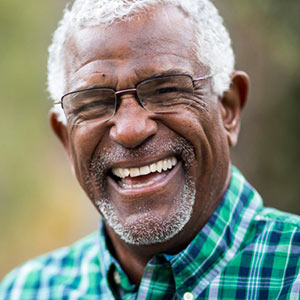 Like other aspects of our lives, aging can take a toll on our smile. Over a lifetime the effects of disease, teeth wearing and the foods we eat can cause our teeth and gums to look unattractive.
Here are 3 of the most common age-related dental problems and how we can help you "turn back the clock" on each one.
Discoloration. Teeth can dull and grow darker over time. And not just from what we eat or drink—age-related structural changes in the tooth can also cause discoloration. We can often alleviate external staining temporarily with teeth whitening. If the staining is heavy or it originates inside the tooth, then we can install life-like porcelain veneers or crowns to cover the discoloration. We can also use composite dental materials to alter the color of one darkened tooth so that it doesn't stand out from the rest of your teeth.
Wearing. Our teeth naturally wear down over time. If the wearing is excessive, though, teeth can look shorter and less youthful. Again, we can use veneers or crowns to change a tooth's outward appearance and make them look longer. We can also employ enamel contouring and reshaping that smoothes out sharper edges caused by wearing to give your teeth a softer, more youthful look.
Receding gums. On the other end of the spectrum, gums that have shrunk back or receded from the teeth can make them look much larger and unattractive. Our first step is to treat any gum disease present—the most common cause of recession—which often helps the tissues to regenerate. If your case is more advanced, though, you may also need grafting surgery to restore lost gum tissue. Using in-depth microsurgical techniques, surgeons attach grafted gum tissue at the recession site. Over time new tissue will grow, restoring adequate gum coverage.
You can also improve your appearance at any age with orthodontics. Besides a more attractive smile, properly aligned teeth tend to wear more slowly and evenly. This and proper daily oral hygiene and regular dental care can keep your teeth looking younger even in your later years.
If you would like more information on gaining a more youthful smile, please contact us or schedule an appointment for a consultation. You can also learn more about this topic by reading the Dear Doctor magazine article "How Your Dentist can help you Look Younger."
By Tuscaloosa Family Dental
August 31, 2018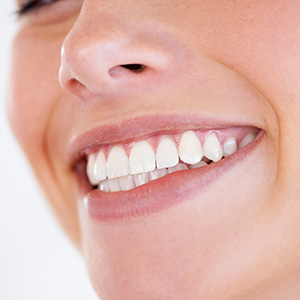 If you've just received a dental implant restoration, congratulations! This proven smile-changer is not only life-like, it's also durable: more than 95% of implants survive at least 10 years. But beware: periodontal (gum) disease could derail that longevity.
Gum disease is triggered by dental plaque, a thin film of bacteria and food particles that builds up on teeth. Left untreated the infection weakens gum attachment to teeth and causes supporting bone loss, eventually leading to possible tooth loss. Something similar holds true for an implant: although the implant itself can't be affected by disease, the gums and bone that support it can. And just as a tooth can be lost, so can an implant.
Gum disease affecting an implant is called peri-implantitis ("peri"–around; implant "itis"–inflammation). Usually beginning with the surface tissues, the infection can advance (quite rapidly) below the gum line to eventually weaken the bone in which the implant has become integrated (a process known as osseointegration). As the bone deteriorates, the implant loses the secure hold created through osseointegration and may eventually give way.
As in other cases of gum disease, the sooner we detect peri-implantitis the better our chances of preserving the implant. That's why at the first signs of a gum infection—swollen, reddened or bleeding gums—you should contact us at once for an appointment.
If you indeed have peri-implantitis, we'll manually identify and remove all plaque and calculus (tartar) fueling the infection, which might also require surgical access to deeper plaque deposits. We may also need to decontaminate microscopic ridges found on the implant surface. These are typically added by the implant manufacturer to boost osseointegration, but in the face of a gum infection they can become havens for disease-causing bacteria to grow and hide.
Of course, the best way to treat peri-implantitis is to attempt to prevent it through daily brushing and flossing, and at least twice a year (or more, if we recommend it) dental visits for thorough cleanings and checkups. Keeping its supporting tissues disease-free will boost your implant's chances for a long and useful life.
If you would like more information on caring for your dental implants, please contact us or schedule an appointment for a consultation. You can also learn more about this topic by reading the Dear Doctor magazine article "Gum Disease can Cause Dental Implant Failure."
By Tuscaloosa Family Dental
March 14, 2018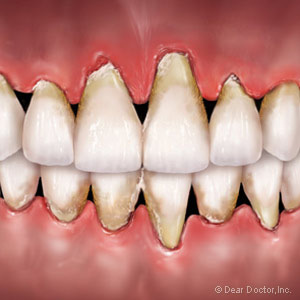 If you ever get out of the habit of daily brushing and flossing, you're setting yourself up for dental disease. Neglecting oral hygiene allows bacterial plaque to build up on tooth surfaces, which can give rise to aggressive gum infections known collectively as periodontal (gum) disease.
Gum disease may first manifest itself as gingivitis, an inflammation of the outer gum tissues around teeth. Resuming hygiene habits could help reduce the infection if it's detected early enough. If the infection has spread deeper below the gum line, though, brushing and flossing won't be able to reach and remove the offending plaque — you'll need our help with that.
The objective of any such treatment is the same as your daily brushing and flossing — remove plaque as well as hardened deposits (calculus) that cause disease. The most basic technique is called scaling in which we use specialized hand instruments (scalers) or ultrasonic equipment to loosen and remove the plaque and calculus from all tooth and gum surfaces.
For deeper plaque, we may need to use a technique called root planing. As its name implies, we use equipment similar to scalers to shave or "plane" plaque, calculus, bacteria or other toxins from the roots that have become ingrained in their surfaces.
These procedures are often carried out with local anesthesia to ensure patient comfort and allow us to be as meticulous as possible with plaque and calculus removal. It's imperative that we remove as much plaque and calculus as possible, and which often involves more than one session. This is because as the gum tissues become less inflamed it allows us to access more plaque-infested areas during subsequent sessions.
Hopefully, these techniques will arrest the infection and restore good health to gum tissues. It's then important for you to recommit and follow through on a renewed daily hygiene regimen to reduce the chances of re-infection that could lead to more serious problems and potential tooth loss.
If you would like more information on treating periodontal (gum) disease, please contact us or schedule an appointment for a consultation. You can also learn more about this topic by reading the Dear Doctor magazine article "Root Planing."